165th Regiment NY Volunteer Infantry | National Color | Civil War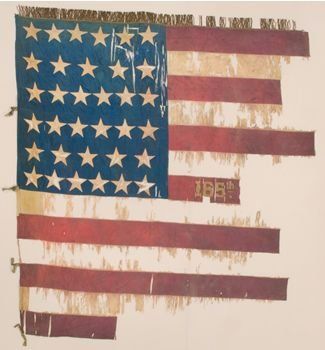 Flag dimensions: 74" hoist X 66" fly.
(2013.0049)
On December 13, 1862, at Camp Washington, Staten Island, the 165th New York Volunteers received a stand of colors from "a select party of gentlemen and ladies." The presentation most likely included the silk national color seen here. The 165th New York Volunteers reportedly carried this national color from 1862 until the end of the war, including at Port Hudson, Louisiana, on May 27, 1863, where two color bearers received mortal wounds, and during the Red River Campaign in Louisiana, March 10–May 22, 1864, where color bearer Sergeant John Engel received a non-fatal wound. The national color carried by the 165th New York Volunteers includes 34 stars in six horizontal rows. Approximately 40% of the flag is missing, mainly in the white stripes and fly half. The unit designation in the center red stripe was somewhat obscured before conservation. After textile conservators from the New York State Office of Parks, Recreation and Historic Preservation (State Parks) used a small and controlled amount of humidity and light weights to help realign the flag, the inscription became readable.