159th Regiment NY Volunteer Infantry | National Color | Civil War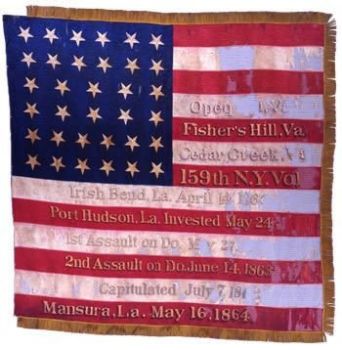 Flag dimensions: 73" hoist X 76" fly.
(2004.0097)
The New York State Battle Flag Collection includes a silk national color carried by the 159th Regiment. The color features 34 embroidered stars in six horizontal rows (6-6-5-5-6-6) and the regiment's numeric designation painted to the fourth red stripe from the top. Numerous painted battle honors appear along the stripes in gold with black underlights including Opequon, Fisher's Hill, Cedar Creek, Irish Bend, the assaults on Port Hudson and Mansura (or Morganza). At Irish Bend the regiment lost over 100 men (killed-wounded-missing) and Colonel Edward Molineux suffered a facial wound. Molineux, like his regiment, recovered and later served as one of the best brigade commanders in the 19th Corps. This flag entered the New York State Battle Flag collection on November 27, 1865.