148th Regiment NY Volunteer Infantry | Regimental Color | Civil War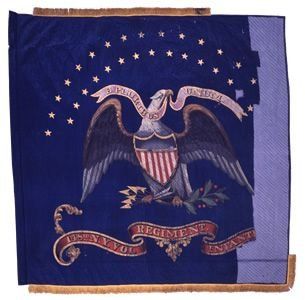 Flag dimensions: 74 1/2" hoist X 73 1/2" fly.
(1995.3592)
This painted silk Regimental Color carried by the 148th New York Volunteers includes the Arms of the United States, gold-colored stars in two arcs, and the unit's numeric designation on the lower ribbon. Only 29 stars remain from most likely a 34-star arrangement. According to Lieutenant Colonel J.B. Murray's report regarding the regiment's action on October 27, 1864, at Fair Oaks, Virginia, Color Corporal Harmon Van Vleck successfully brought this flag off the field of battle, "while under a most terrific fire."