146th Regiment NY Volunteer Infantry | Regimental Color | Civil War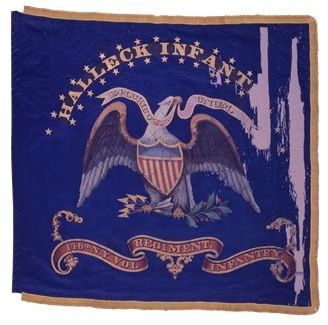 Flag dimensions: 75 1/2" hoist X 77 1/2" fly.
(2013.0004)
Organized in Rome, Oneida County, the 146th New York Volunteers mustered into service in October 1862. Known as the "Halleck Infantry" after Oneida County native Major General Henry Halleck, the regiment customized their Regimental Color by painting their nickname on it. The blue silk flag, featuring the Arms of the United States, accompanied the 146th New York Volunteers from the unit's first engagement at Fredericksburg, Virginia, December 1862, through Gettysburg, Pennsylvania, July 1863. This regimental color includes the Arms of the United States painted on both sides. On the reverse, the Arms appear in mirror image. This flag is made from two pieces of blue silk seamed together on the horizontal about two-thirds from the top. In addition, the regiment had their nickname painted to the flag. Black paint was applied as a base coat and the letters were then painted to the black strip. The flag received a netting treatment in 1965. The netting treatment included removing the fringe, machine stitching the flag between two layers of nylon net, and then reattaching the fringe. Although the work followed common practice at the time, the netting actually damaged the fabric and accelerated the flag's deterioration.