140th Regiment NY Volunteer Infantry | Regimental Color | Civil War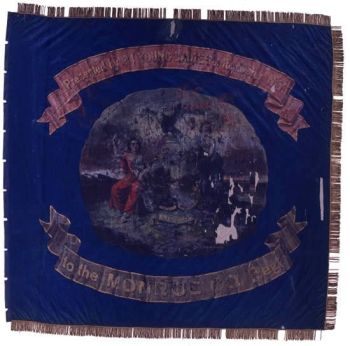 Flag dimensions: 77" hoist X 78" fly.
(2003.0288)
In September 1862 the 140th Regiment NY Volunteer Infantry received this painted silk regimental color from a group of young ladies from Rochester. The front side, seen here, features the Arms of the State of New York with presentation inscription. The side opposite includes a stylized Arms of the United States, the patriotic slogan, "GOD HELP THE RIGHT," and the regiment's designation. In addition to the painted decorations, the flag includes metallic bullion fringe sewn along three sides. Over time, the fringe's metal components reacted with the dyed silk causing a green discoloration around the flag's outer edges.