13th Regiment NY Volunteer Infantry | Regimental Color | Civil War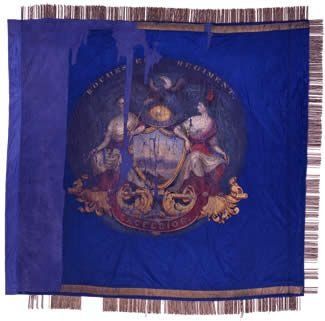 Flag dimensions: 80" hoist X 80" fly.
(2005.0008)
In May 1861, the "ladies of Rochester" presented this custom-made Regimental color to the 13th New York Volunteers. The flag features a stylized, painted version of the Arms of the State of New York with "ROCHESTER REGIMENT" painted above. Carried for two years and deposited with state authorities by Colonel Elisha Marshall, the flag includes three fabric layers. The outer layers are each made from a single piece of blue silk. Two pieces of plain cotton, seamed vertically, form the inner lining. Yellow painted bands line the flag's top and bottom. Three separate pieces of metallic bullion fringe trim the top, fly, and bottom edges. In 1961, a flag restorer disassembled the flag and sandwiched each outer silk layer between blue, nylon net. The center cotton lining and staff sleeve, most likely original, are between the two layers of "netted" silk. The restorer then attached all the layers around the outside edges.