137th Regiment NY Volunteer Infantry | National Color | Civil War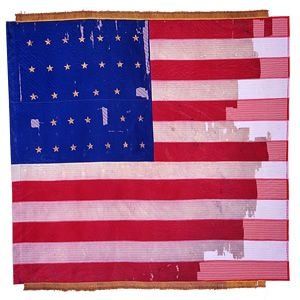 Flag dimensions: 73" hoist X 73 3/4" fly.
(2008.0001)
This silk national color carried by the 137th New York Volunteers includes 31 gold-colored, painted stars in the canton from an original 34-star pattern. Veterans from the regiment apparently removed, or "souvenired," the three missing stars from the third and fourth rows. In 1968 a flag restorer sandwiched the flag between nylon net and, to compensate for the missing fly end, extended the netting to approximate the flag's original proportions. According to Lieutenant Colonel Koert VanVoorhees, this national color was carried on campaign from Chancellorsville, Virginia, May 1863, through the Chattanooga, Tennessee campaign, November 1863. Reportedly, during the nighttime assault at Wauhatchie, Tennessee, October 28-29, 1863, the color bearer suffered a disabling shoulder wound while carrying this flag and during the Battle of Lookout Mountain, November 24, 1863, this national color was the first flag planted upon the enemy's works.