131st Regiment NY Volunteer Infantry | Flank Markers | Civil War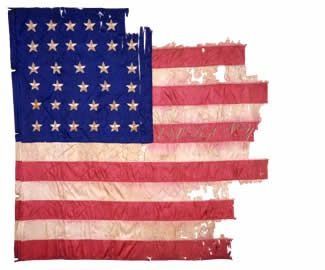 Flag dimensions: 26 1/4" hoist X 26 1/2" fly.
(2005.0001)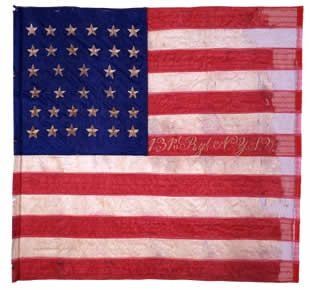 Flag dimensions: 27 1/2" hoist X 29" fly.
(1995.3688)
These silk flank markers, reportedly manufactured by Tiffany & Company, were presented to the 131st Regiment NY Volunteer Infantry by Horace Day at Annapolis, Maryland, in the fall of 1862. Pieced together with red, white, and blue silk in the U.S. national pattern (34 stars) with hand-sewn, 1/8-inch, French seams, each flag in the pair features the regiment's designation embroidered in the center red stripe. One of the flags received a netting treatment in 1971. Not a recommended treatment by today's standards, the netting obscures construction details, creates a stiffer hand, a false sense of fabric stability, and adds stress holes in the delicate silk.