125th Regiment NY Volunteer Infantry | National Color | Civil War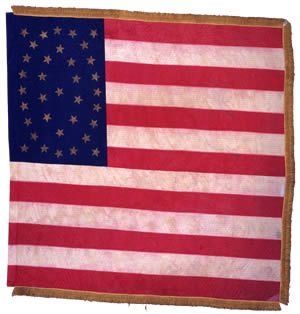 Flag dimensions: 75 1/2" hoist X 72 1/2" fly.
(2005.0121)
The New York State Battle Flag Collection includes one silk national color carried by the 125th Regiment. The flag's canton features 35 bronze-colored, painted stars in the double oval pattern typical of Philadelphia Depot colors. Yellow-colored, 2 3/8-inch long, silk fringe lines the top, fly, and bottom edges.