125th Regiment NY Volunteer Infantry | Guidon | Civil War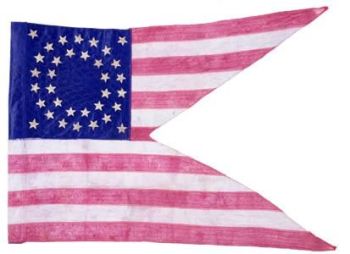 Flag dimensions: 29 3/4" hoist X 40" fly.
(1995.3689)
This silk swallowtail guidon, used as a marker to assist in battlefield maneuvers, conforms to the "stars and stripes" pattern described in General Order No. 4, Headquarters of the U.S. Army, dated January 18, 1862. The flag includes 34 gold-painted stars in the canton. According to Colonel Levin Crandell, Private William F. Mullin carried this flag during the battle of Gettysburg, July 1863, where enemy fire reportedly pierced the flag and shattered the staff.