Company H, 119th Regiment NY Volunteer Infantry | National Color | Civil War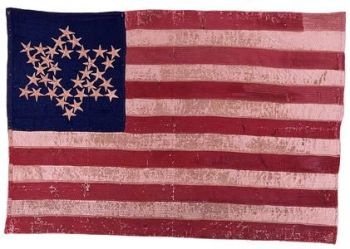 Flag dimensions: 41 1/2" hoist X 61" fly.
(1995.3751)
Made by women from Hempstead, Long Island and reportedly received by Company H in the fall of 1862 while on duty near Washington, D.C., this silk national color includes 34 appliquéd stars in the canton. The stars are arranged in a star pattern sometimes referred to as the "Great Luminary Pattern." In the late 1930's the flag was "restored" by Mrs. Katherine Fowler Richie using a technique patented by her mother Mrs. Amelia Fowler, the woman who treated the Star Spangled Banner.