106th Regiment NY Volunteer Infantry | Regimental Color | Civil War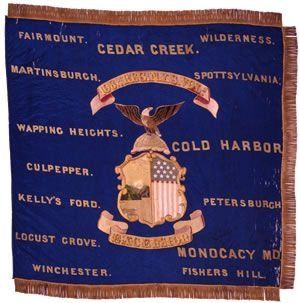 Flag dimensions: 78" hoist X 78 1/2" fly.
(2005.001)
Manufactured by Tiffany & Co. from New York City, the richly embroidered regimental color carried by the 106th Regiment NY Volunteer Infantry includes the Arms of the State of New York, complete with numeric designation in the upper ribbon, surrounded by 14 battle honors commemorating the regiment's service throughout 1863 and 1864. Women from the regiment's native counties, St. Lawrence and Franklin, raised enough money to procure the flag and on January 1, 1865, the regiment formally received the flag in a grand presentation attended by brigade and division commanders. The flag, carried by Corporal William H. Royal, was reportedly the first planted upon the enemy's works at Petersburg, April 1, 1865, and was pierced by no less than three bullets.