106th Regiment NY Volunteer Infantry | General Guide Flags | Civil War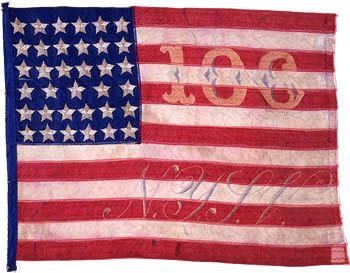 Flag dimensions: 18 1/2" hoist X 23 1/4" fly.
(2002.0006)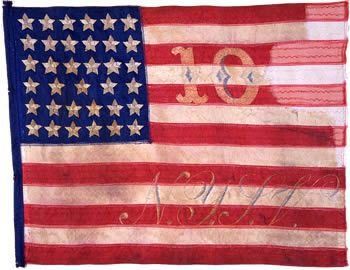 Flag dimensions: 18 1/2" hoist X 24" fly.
(2002.0007)
A pair of silk general guide flags in the US National pattern with 35 embroidered stars in six horizontal rows of 6-6-6-5-6-6, semi-block numbers with shadow effects, and script state affiliation, "N.Y.S.V." Known as the St. Lawrence County Regiment, the 106th Regiment organized at Ogdensburg under Colonel Schuyler Judd and his successor, Colonel Edward James, and mustered into service for three years on August 27, 1862. The regiment deposited their flags with the state on July 17, 1865.