8th Regiment Cavalry, NY Volunteers | Standard | Civil War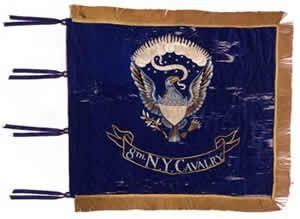 Flag dimensions: 27 1/4" hoist X 37 3/4" includ. ties fly.
(2004.0039)
Presented to the 8th Regiment Cavalry, NY Volunteers in May 1864, this silk standard features the arms of the United States embroidered to the center with thirteen stars and clouds embroidered between the eagle's wings. The regiment's numeric designation is embroidered below the eagle and reads left to right on both sides. Four rings covered with ribbons that extend for use as tiebacks are attached to the hoist edge but are not original to the flag.