5th Regiment Cavalry, NY Volunteers | Standard | Civil War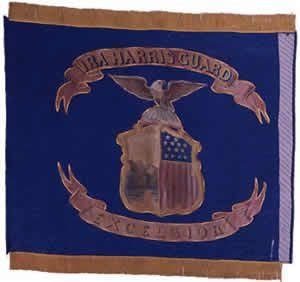 Flag dimensions: 41" hoist X 45" fly.
(2002.0159)
In November 1861, Miss Mary Blake presented this embroidered silk regimental flag to the 5th Cavalry at Camp Scott, Staten Island. Senator Ira Harris gave the presentation address. The inscriptions are highlighted with darker coloring, and the unit's nickname appears in the upper ribbon rather than the regiment's numeric designation. The fly end of this flag is missing, so the netting that extends the width of the extant flag is an estimate.