1st Regiment Mounted Rifles, NY Volunteers | Standard | Civil War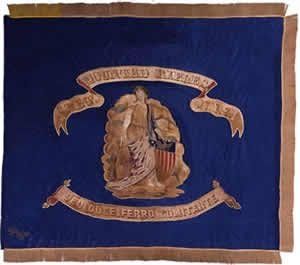 Flag dimensions: 53" hoist X 59" fly.
(2000.0166)
The 1st Mounted Rifles received this presentation flag in October 1862. Embroidered by Tiffany & Co., the flag features the Goddess Columbia with the Latin inscription "DEO DUCE, FERRO COMITANTE," or, translated, "God My Guide, My Sword, My Companion." The flag was restored in 1969 using a matching blue backing fabric to hide extensive losses to the fly and bottom edges. Restorers stitched the flag and backing fabric between two layers of nylon net with zig-zag machine stitching.