1st Regiment Cavalry, NY Volunteers | Standard | Civil War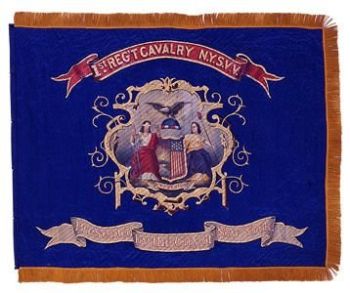 Flag dimensions: 40" hoist X 47 3/4" fly.
(2006.0315)
The 1st Regiment Cavalry, New York Volunteers mustered into service between July 16 and August 31, 1861. When their three year term expired, those entitled were discharged and the regiment continued in service as "Veteran Volunteers," as indicated by the "N.Y.S.V.V." painted along the upper ribbon of this blue silk standard. The flag features the Arms of the State of New York painted on the obverse and the Arms of the City of New York painted on the reverse. The painted presentation inscription on the lower ribbon, "Presented by the City of New York.", appears on both sides reading left to right.