7th Independent Battery, NY Volunteers | Flank Marker | Civil War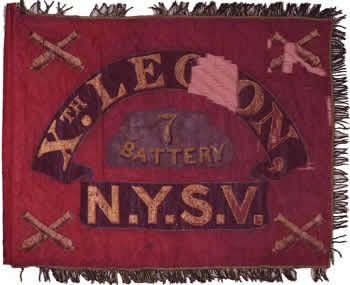 Flag dimensions: 20" hoist X 24 3/4" fly.
(2000.0161)
This silk flank marker includes 1.25-inch long metal bullion fringe. Both sides include painted crossed cannons in each corner and "Xth. LEGION / N.Y.S.V.". However, one side features "7 / BATTERY" in the center while the side opposite includes "56th". The battery originally formed part of the "Xth (10th) Legion," an organization raised in July 1861 from the state's 10th congressional district to include infantry, sharpshooter, cavalry, and artillery troops. Military authorities in November 1861 detached the artillery unit and they received the numerical designation, 7th Independent Battery.