1st Regiment Artillery (Light), NY Volunteers | Regimental Color | Civil War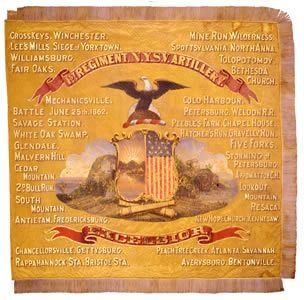 Flag dimensions: 79" hoist X 77" fly.
(2006.0313)
The yellow, silk regimental color attributed to the 1st Regiment Artillery (Light), New York Volunteers, features the Arms of the State of New York painted in the center accented with landscape scenes, crossed cannons, and battle honors. Deposited into the New York State Battle Flag Collection in November 1865,the flag was made from three pieces of silk, seamed together along the horizontal before the painted designs were applied. The Arms with landscape images are the same on the front and the back, however, the battle honors only read correctly on the front side of the flag.