Battery I, 1st Regiment Artillery (Light), NY Volunteers | Battery Flag | Civil War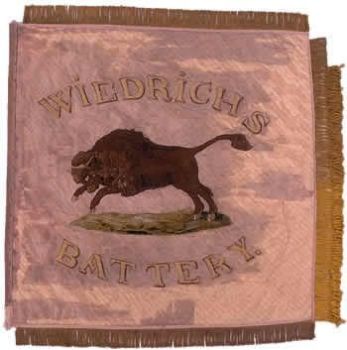 Flag dimensions: 36" hoist X 35.5" fly.
(2002.0131)
In March 1864, Battery I received this silk, two-sided flag from "friends of the Company." Exposure to harmful light rays caused the flag's color to fade to a light yellow from the original more reddish hue still visible along the staff sleeve. On the reverse, Francesca Klein, an embroiderer from New York City who made the flag, added her name and address. During a 1962 restoration, the flag was disassembled. Both sides of the flag and staff sleeve were sandwiched between two layers of white, nylon net and a piece of yellow, synthetic fabric was inserted between the two sides to mask losses. The staff sleeve and fringe were then reattached.