11th Independent Battery, NY Volunteers | National Flag | Civil War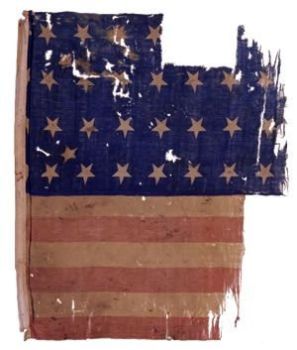 Flag dimensions: 43" hoist X 35 3/4" fly.
(2005.0117)
The New York State Battle Flag Collection includes one national flag attributed to the 11th Independent Battery, New York Volunteers. This printed, cotton and wool flag includes 29 stars in four rows and two offset insert stars. The cotton hoist edge obscures, in part, the first star in each row. Apparently the flag originally included 32 stars (4 rows of 8 stars) and someone later added the two insert stars. The flag does have extensive losses to the fly edge. The original size of the flag is unknown.