11th Independent Battery, NY Volunteers | Guidons | Civil War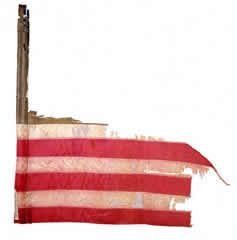 Flag dimensions: 28" hoist X 37 3/4" fly.
(2004.0031)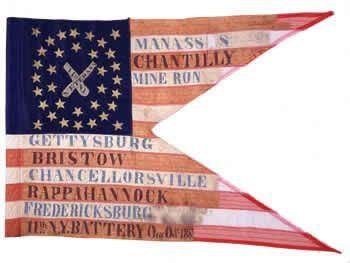 Flag dimensions: 29 1/2" hoist X 41" fly.
(2004.0032)
The NYS Battle Flag Collection includes two guidons attributed to the 11th Independent Battery, New York Volunteers. Each silk, swallowtail guidon conforms to the "stars and stripes" pattern prescribed in General Order No. 4, dated January 18, 1862. One guidon includes 34 gold painted stars and applique crossed cannons with regimental identification in its canton as well as battle honors along the stripes. The other guidon is missing its canton almost entirely and does not include any battle honors.