1st Engineer Regiment
Nickname: Serrell's Engineers; Engineer's And Artisans; New York Volunteer Corps Of Engineers
Mustered in by companies: October 11, 1861 to February 19, 1862
Designated 1st Regiment of Engineers: June 30, 1865
The following is taken from New York in the War of the Rebellion, 3rd ed. Frederick Phisterer. Albany: J. B. Lyon Company, 1912.
This regiment was organized under Col. Edward W. Serrell at New York city and accepted by the State September 27, 1861. The companies were mustered in the United States service for three years at New York city, A, B, C, D and E October 11, 1861 ; G, K and I December 2, 3 and 13, 1861, respectively; F in January, and H February 19, 1862. The original Company L became the 4th N. Y. Volunteer Battery in October, 1861. In January, 1864, 205 enlisted men of the Enfants Perdus and two officers and forty enlisted men of the 4th N. Y. Volunteer Battery were assigned to the regiment by transfer; Company L was reorganized of men of the 4th Battery and Company M in April, 1864, from recruits in the field. Company M was, however, not fully organized until April, 1865, up to which time the incompleted company was commanded by details of officers of other companies. At the expiration of its term of service the men entitled thereto were discharged and the regiment continued in the service.
The companies were recruited principally: A, B, D, H and L at New York city; C at Athens, Hudson and Cooperstown, Newark, N. J., and in Pennsylvania; E at Kingston, Pa., Newark, N. J., Sing Sing, Poughkeepsie, New York city and in Ulster county; F at New York city, Brooklyn, Rochester, Canandaigua and Newark, N. J. ; G at New York city, Canandaigua and in Otsego county; I at New York city, Newburgh, Schuyler's Falls, Mooers Forks, Goshen, Saranac, Piermorat, Plattsburgh, Centreville and Ellenburgh; K in New Jersey, at Newton, Dover, Paterson, Morristown, Stanhope and Rockaway, and M at New York city, Brooklyn, Tompkinsville, Kingston and Tarrytown.
Companies A, B, C, D, and E left the State for Port Royal, S. C., under Colonel Serrell, ; G, I and K December 14, 1861, and F and H in February, 1862; and the regiment served in the Department of the South, 10th Corps, and, from May, 1864, Companies B, D, E, F, H, K, L and M with the Army of the James. The regiment, commanded
by Col. James F. Hall, was honorably discharged and mustered out, Companies A, C, G and I at Hilton Head, S. C., the other companies June 30, 1865, at Richmond, Va.
During its service the regiment lost by death, killed in action, 16 enlisted men; of wounds received in action, 2 officers, 8 enlisted men; of disease and other causes, 5 officers, 114 enlisted men; total, 7 officers, 138 enlisted men; aggregate, 145; of whom 3, enlisted men died in the hands of the enemy.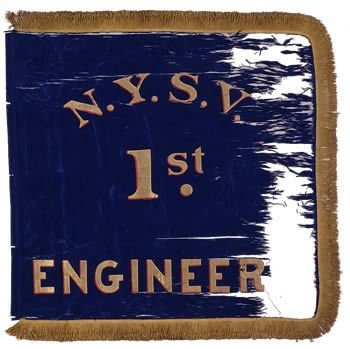 1st Regiment Engineers, NY Volunteers | Flank Markers | Civil War
This pair of blue silk presentation flank markers include painted inscriptions and 2" fringe. Adjutant General William Irvine deposited the flank…