6th Infantry Regiment
Nickname: Billy Wilson's Zouaves; Union Battalion Zouaves; Union Volunteers
Mustered in: May 25, 1861
Mustered out: June 25, 1863
The following is taken from New York in the War of the Rebellion, 3rd ed. Frederick Phisterer. Albany: J. B. Lyon Company, 1912.
This regiment was recruited in New York city, organized under Col. William Wilson on Staten Island, and accepted by the State May 22, 1861. It was mustered in the service of the United States for two years, Companies A, B, C, D and E April 30, and F, G, H, I and K May 25, 1861. A number of the members of Company B, Empire City Guard, an incomplete organization, joined Company D of this regiment.
The regiment left the State June 15, 1861; served at Santa Rosa Island, Fla., Department of Florida, from June 23, 1861; three companies at Fort Jefferson, Fla., from January, 1862; in Department of the South, from March, 1862; in the West District of the Department of the South, from April, 1862; at Pensacola, Fla., from May 9, 1862; in the Department of the Gulf, from November, 1862; in the First Brigade (Dwight's), Grover's Division, Department of the Gulf, from December 30, 1862; in the 1st Brigade, 4th Division, 19th Corps, from March, 1863; on the expiration of its term of service it was returned to New York city, and there, under Colonel Wilson, honorably discharged and mustered out June 25, 1863.
During its service the regiment lost by death, killed in action, 12 enlisted men; of wounds received in action, 3 enlisted men; of disease and other causes, 34 enlisted men; total, 49.
The following is taken from The Union army: a history of military affairs in the loyal states, 1861-65 -- records of the regiments in the Union army -- cyclopedia of battles -- memoirs of commanders and soldiers. Madison, WI: Federal Pub. Co., 1908.
Sixth Infantry.—Col., William Wilson; Lieut.-Cols., John Creighton, Michael Cassidy; Majs., William Newby, James W. Burgess. The 6th, recruited in New York city and known as Wilson's Zouaves, was mustered into the U. S. service at Tompkinsville, April 30 and May 25, 1861, for two years. It left New York city on June 15 on the steamer Vanderbilt for Santa Rosa island, Fla., where it encamped near Fort Pickens. Cos. A, B and C were stationed at Key West and Tortugas, and Cos. G and I at batteries Lincoln and Cameron. The companies remaining at the original camp were attacked in October and fell back to battery Totten. In Nov., 1861, and Jan., 1862, the fortifications of Pensacola were bombarded, the regiment taking part in the attack, and upon the evacuation of the city in May the 6th was quartered in the town, Cos. G and I being stationed at Fort Barrancas. It was ordered to New Orleans in Nov., 1862, where it was attached to Sherman's division and later to Grover's division, with which it moved to Baton Rouge. In March, 1863, the 4th division (Grover's), of the 19th corps was ordered to Brashear City and took part in an expedition to Irish bend, where an engagement ensued in which the 6th was active, as also at Vermillion bayou. Upon returning it was ordered to Alexandria and there embarked for New York city, where it was mustered out on June 25, 1863. The original members numbered 770, of whom 14 were killed or died of wounds, and 32 died from other causes.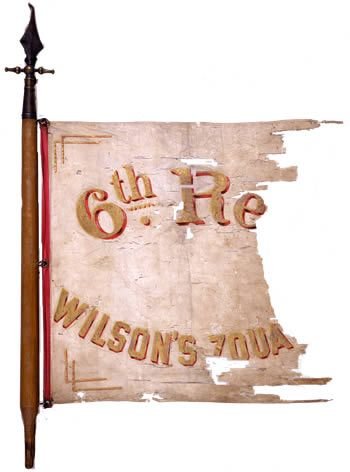 6th Regiment NY Volunteer Infantry | General Guide Flag | Civil War
Presented to the 6th Regiment NY Volunteer Infantry by Thomas C. Burns on behalf of the citizens of Staten Island, New York, this white silk guide…