23rd Regiment, New York National Guard
Mustered in June 16, 1863
Mustered out: July 22, 1863.
The following is taken from New York in the War of the Rebellion, 3rd ed. Frederick Phisterer. Albany: J. B. Lyon Company, 1912.
The organization of this regiment, located in Brooklyn and still in existence, dates from the 20th of January, 1862, when its first company (A) was mustered into the State service; the regimental organization was perfected July 14, 1862.
The regiment has received authority to place silver rings on the lances of its colors, engraved as follows:
On the National Color.— Gettysburg Campaign, 1863.
On the Stale Color.— Draft riot, July and August, 1863; East New York, September 22, 1863; Brooklyn, November 6, 1864; Brooklyn, February 16, 1870; Orange riots, 1871; Hornellsville, July 22, 1877; Buffalo, August, 1892; Brooklyn, January, 1895; Albany, 1901.
Service in the War of the Rebellion.
This regiment (ten companies) left the State June 18, 1863, commanded by Col. William Everdell, Jr. It was mustered in the United States service for thirty days at Harrisburg, where, and in the vicinity of which, it served in the 3d Brigade, 1st Division, Department Susquehanna. It was mustered out at Brooklyn, July 22, 1863.
It participated in the following engagements: June 28th, at Oyster Point, Pa.; July 1, 1863, at Carlisle, Pa.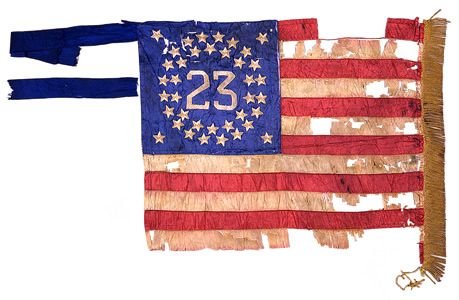 23rd Regiment NY National Guard | General Guide Flag | 1877-1890
This general guide flag in the US National pattern conforms to the 1889 U.S. Army Regulations. The flag includes 38 embroidered stars in two…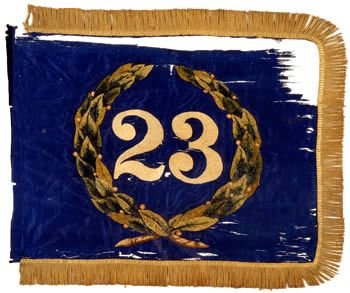 23rd Regiment NY National Guard | Flank Marker | c. 1880
This blue silk flank marker from the late 19th century features an embroidered wreath and regimental designation. The weight of the embroidery and…