152nd Infantry Regiment
Mustered in: October 14, 1862
Mustered out: July 13, 1865
The following is taken from New York in the War of the Rebellion, 3rd ed. Frederick Phisterer. Albany: J. B. Lyon Company, 1912.
Colonel Leonard Boyer received authority, August 23, 1862, to recruit this regiment in the then 20th Senatorial District of the State; it was organized at Mohawk, and there mustered in the service of the United States for three years October 14 and 15, 1862.
The companies were recruited principally: A at Herkimer, Little Falls and Mann-heim; B at Warren, Ohio, Richfield, Norway, Newport, Russia and Wilmurt; C at Mohawk and Morris; D at Stark, Springfield, Warren, Otsego and Richfield; E at Litchfield, Winfield, Danube, Schuyler, Columbia and Springfield; F at Little Falls, Fairfield, Mannheim, Warren, Newport and Danube; G at Otego, Butternuts, Oneonta, Otsego and Exeter; H at Hartwick, Laurens, New Lisbon, Pittsfield, Milford and Maryland; I at Roseboom, Otsego, Worcester, Laurens, Burlington, Springfield, Richfield, Hartwick, New Lisbon and Stark; and K at Frankfort, Warren, Roseboom, German Flatts, Little Falls, Worcester, Richfield, Columbia and Herkimer.
The regiment left the State October 25, 1862; it served in the Provisional Brigade, Afcercrombie's Division, defenses of Washington, from October, 1862; in the District of Washington, 22d Corps, from February, 1863; in the 1st, Terry's, Brigade, 1st, Cor-coran's, Division, 7th Corps, Department of Virginia, at Suffolk, from April 22, 1863; in Terry's Division, 4th Corps, from June, 1863; in 1st Brigade, 1st Division, 7th Corps, in July, 1863; in New York city, Department of the East, from July 16, 1863; in 1st Brigade, 2d Division, 2d Corps, from October 18, 1863; in 2d Brigade, 2d Division, 2d Corps, from March, 1864; in 4th Brigade, 1st Division, 2d Corps, from June 21, 1864; in 1st Brigade, 2d Division, 2d Corps, from July, 1864; and, commanded by Col. James E. Cur-tiss, it was honorably discharged and mustered out July 13, 1865, near Washington, D. C.
During its service the regiment lost by death, killed in action, 4 officers, 48 enlisted men; of wounds received in action, 22 enlisted men; of disease and other causes, 1 officer, 91 enlisted men; total, 5 officers, 161 enlisted men; aggregate, 166; of whom 28 enlisted men died in the hands of the enemy.
The following is taken from The Union army: a history of military affairs in the loyal states, 1861-65 -- records of the regiments in the Union army -- cyclopedia of battles -- memoirs of commanders and soldiers. Madison, WI: Federal Pub. Co., 1908. volume II.
One Hundred and Fifty-second Infantry.—Cols., Leonard Boyer, Alonzo Ferguson, George W. Thompson, James E. Curtis; Lieut.-Cols., Alonzo Ferguson, George W. Thompson, Timothy O'Brien, James E. Curtis, Edmund G. Gilbert; Majs., George R. Spaulding,. Timothy O'Brien, James E. Curtis, Edmund C. Gilbert, Charles H. Dygert. This regiment, recruited in the counties of Herkimer and Mohawk was organized at Mohawk and was there mustered into the U. S. service on Oct. 15, 1862. The regiment left on the 25th and was stationed in the defenses of Washington until the succeeding April, when it was ordered to Suffolk and assigned to Terry's-brigade, Corcoran's division, 7th corps. After sharing in the defense of Suffolk, it served under Gen. Keyes on the Peninsula and in July was ordered to New York city during the draft riots, remaining there until October, when it joined the Army of the Potomac and was assigned to the 1st brigade, 2nd (Webb's) division, 2nd corps. In this command it shared in the Mine Run campaign, being engaged at Robertson's tavern. In the Wilderness campaign it fought in Gibbon's division, 2nd corps and was active in all the series of battles ending with the surrender of Lee at Appomattox. Its heaviest losses occurred at the Wilderness, Spottsylvania, North Anna river, Cold Harbor, first assault on Petersburg, Weldon railroad, Strawberry Plains, Reams' station and Boydton plank road. Its losses during the whole campaign amounted to a total of 303 killed, wounded and missing. Its last battle was at Farmville two days before Lee's surrender. Under the command of Col. Curtis it was mustered out near Washington, D. C., June 13, 1865, and returned home with only 256 men, having lost during service 4 officers and 68 men, killed and died of wounds; I officer and 91 men died of disease and other causes; total deaths, 166. Private John Weeks was awarded a medal of honor for gallantry.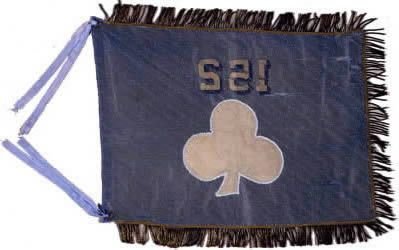 152nd Regiment NY Volunteer Infantry | Flank Markers | Civil War
Colonel Leonard Boyer received authority in August 1862 to recruit a regiment from the 20th Senatorial District. Organized at Mohawk, the 152nd…