151st Infantry Regiment
Mustered in: October 22, 1862
Mustered out: June 26, 1865
The following is taken from New York in the War of the Rebellion, 3rd ed. Frederick Phisterer. Albany: J. B. Lyon Company, 1912.
August 20, 1862, Col. Franklin Spaulding, succeeded, September 3, 1862, by Col. William Emerson, received authority to recruit this regiment in the then 29th Senatorial District of the State; it was organized at Lockport, and there mustered in the service of the United States for three years October 22, 1862. The men recruited for Col. Franklin Sidway's Buffalo Regiment, under authority, dated September 7, 1863, were merged into this regiment, completing its organization. December 21, 1864, it was consolidated into a battalion of five companies, A to E, the men of Company F being transferred to Companies A, C and E; those of G to Companies A and B; those of H to Company E; of I to D; and of K to A and B.
The companies were recruited principally: A—-Independent Rifles — at Medina; B at Niagara Falls; C at Batavia; D at Albion; E at Rochester; F and I at Lockport; G in the counties of Niagara and Orleans; H in the county of Niagara; and K at Somerset, Newfane, Olcott, Buffalo, Eden, North Collins and Lockport.
The regiment left the State October 23, 1862; it served in the Middle Department, 8th Corps, at and near Baltimore, Md., from October, 1862; in West Virginia, in the 3d Separate Brigade, 8th Corps, from February, 1863; at South Mountain, Md., in June, 1863; in 3d Brigade, 3d Division, 3d Corps, from July 10, 1863; in the 1st Brigade, 3d Division, 3d Corps, from August, 1863; in the 1st Brigade, 3d Division, 6th Corps, from April, 1864; and, under Lieut-Col. Charles Bogardus, it was honorably discharged and mustered out June 26, 1865, near Washington, D. C.
During its service the regiment lost by death, killed in action, 5 officers, 75 enlisted men; of wounds received in action, 26 enlisted men; of disease and other causes, I officer, 99 enlisted men; total, 6 officers, 200 enlisted men; aggregate, 206; of whom 23 enlisted men died in the hands of the enemy.
The following is taken from The Union army: a history of military affairs in the loyal states, 1861-65 -- records of the regiments in the Union army -- cyclopedia of battles -- memoirs of commanders and soldiers. Madison, WI: Federal Pub. Co., 1908. volume II.
One Hundred and Fifty-first Infantry.—Col., William Emerson; Lieut.-Cols., Ewen A. Bowen, Thomas M. Fay, Charles .Bogardus; Majs., Thomas M. Fay, James A. Jewell. This regiment, recruited the counties of Niagara and Monroe, was organized/at Lockport, here it was mustered into the U. S. service Oct. 22, 1862, for three years. It received the men recruited for Col. Franklin Sidway's Buffalo regiment, which served to complete its organization. The regiment left the state on the 23d and was stationed at Baltimore until the following February, when it was ordered to West Virg-nia, serving there and at South mountain, Md., until July 10, 1863, when it joined the 3d corps and was assigned to the 3d brigade, 3d (French's) division, in which it was present at the action of Wap-ng heights. In August it was placed in the 1st brigade, same divi->n and corps, and was present, but met with no loss, at McLean's Ford, Catlett's station and Kelly's ford. During the Mine Run cam-ign it was sharply engaged at Locust Grove, losing 60 killed, wounded and missing, and upon returning from this campaign went to winter quarters at Brandy Station. When the 3d corps was discontinued in March, 1864, the 151st was placed in the 1st bride, 3d (Ricketts) division, 6th corps, with which it did its full are in the fighting from the Wilderness to Petersburg, being engaged at the Wilderness, Spottsylvania, North Anna, Totopotomy, Cold Harbor. On July 6, during Early's invasion of Maryland, moved with its division to Baltimore and was heavily engaged at Monocacy, losing 118 killed, wounded and missing. As a part of the Army of the Shenandoah it took part in Sheridan's brilliant campaign in the Valley, fighting at Charlestown, Leetown, Smith-Id, Opequan, Fisher's hill and Cedar creek, with a loss of 38 in the campaign. In December it returned to the Petersburg trenches and was stationed near the Weldon railroad through the winter. on Dec. 21, 1864, its thinned ranks were consolidated into a battal-i of five companies. In April, 1865, it took part in the final assa-ult on the works of Petersburg and the ensuing hot pursuit of Lee's army, fighting its last battle at Sailor's creek. Its loss in the Appomattox campaign was 18 killed and wounded. The regiment was finally mustered out near Washington, D. C, June 26, 1865 under command of Lieut.-Col. Bogardus. It lost during service 5. officers and 101 men killed and mortally wounded; I officer and 99. men died of disease and other causes; total deaths, 206.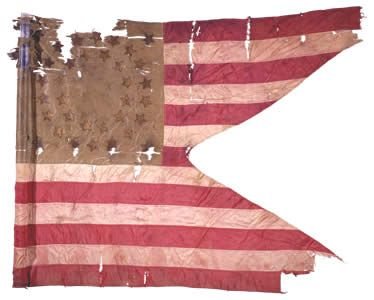 151st Regiment NY Volunteer Infantry | Guidons | Civil War
The NYS Battle Flag Collection includes two silk swallowtail guidons carried by the 151st Regiment New York Volunteer Infantry. Each guidon conforms…