136th Infantry Regiment
Nickname: Ironclads
Mustered in: September 25, 1862
Mustered out: June 13, 1865
The following is taken from New York in the War of the Rebellion, 3rd ed. Frederick Phisterer. Albany: J. B. Lyon Company, 1912.
Colonel James Wood, Jr., received authority, August 8, 1862, to recruit this regiment; it was organized at Portage, and there mustered in the service of the United States for three years September 25 and 26, 1862. June 12, 1865, the men not to be mustered out with the regiment were transferred to the 60th Infantry.
The companies were recruited principally: A at Portage Station; B at North Danville, Burns, Ossian and Springwater; C at Livonia, Geneseo, Groveland, Leicester and Spring-water; D at Warsaw, Castile, Eagle, Gainesville, Genesee Falls, Orangeville and Pike; E at Lima, Allen, Covington, Middlebury and Warsaw; F at Mount Morris; G at Geneseo, Avon and York; H at Portage, Bennington, China, Java, Perry, Orangeville, Sheldon and Wethersfield; I at Conesus, Sparta, Springwater, Nunda, North Dansville and Portage; and K at Cuba, Friendship, West, Clarksville, Bolivar and New Hudson.
The regiment left the State October 3, 1862; it served in the 2d Brigade, 2d Division, 11th Corps, from October, 1862; in the 3d Brigade, 3d Division, 2Oth Corps, from April, 1864; and, commanded by Colonel Wood, it was honorably discharged and mustered out, June 13, 1865, near Washington, D. C.
During its service the regiment lost by death, killed in action, 40 enlisted men; of wounds received in action, 2 officers, 34 enlisted men; of disease and other causes, 1 officer, 91 enlisted men; total, 3 officers, 165 enlisted men; aggregate, 168; of whom 3 enlisted men died in the hands of the enemy.
The following is taken from The Union army: a history of military affairs in the loyal states, 1861-65 -- records of the regiments in the Union army -- cyclopedia of battles -- memoirs of commanders and soldiers. Madison, WI: Federal Pub. Co., 1908. volume II.
One Hundred and Thirty-sixth Infantry.—Col., James Wood, Jr.; Lieut.-Cols., Lester B. Faulkner, Henry L. Arnold; Majs., David C. Hartshorn, Henry L. Arnold, Campbell H. Young. The 136th, the "Ironclads," was recruited in the counties of Allegany, Livingston and Wyoming and rendezvoused at Portage, where it was mustered into the U. S. service for three years on Sept. 25-26, 1862. It left the state on Oct. 3; was assigned to the 2nd brigade, 2nd (Steinwehr's) division, 11th corps; went into winter quarters with the corps at Stafford, Va.; fought its first battle at Chancellorsville, losing a few men killed, wounded and missing; and was heavily engaged at Gettysburg on the first two days of the battle, losing 109 in killed, wounded and missing. In Sept., 1863, it was ordered to Tennessee with the nth and 12th corps and was engaged the following month at the midnight battle of Wauhatchie, Tenn., losing 6 killed and wounded. It was active at Missionary ridge in the Chattanooga-Ringgold campaign, losing 11 killed and wounded. When the 20th corps was formed in April, 1864, it was attached to the 3d brigade, 3d (Butterfield's) division of that corps, moving on the Atlanta campaign early in May. It was active at the battles of Rocky Face ridge, Resaca, Cassville, Dallas, Kennesaw mountain and in the siege of Atlanta. Its heaviest loss was incurred at Resaca, where the casualties amounted to 13 killed, 68 wounded and 1 missing. After the fall of Atlanta it remained there until November, when it marched with Sherman to the sea, engaged in thesiege of Savannah, and closed its active service with the campaign through the Carolinas, in which it was engaged at Fayetteville, Averasboro, Bentonville, Raleigh and Bennett's house, losing 45 in killed and wounded in the battles of Averasboro and Bentonville. After the close of the war it marched with its corps to Washington, where it took part in the grand review, and was mustered out on June 13, 1865, under command of Col. Wood, who was later promoted to bvt. brigadier-general and major-general. The regiment lost by death during service, 2 officers and 74 men, killed and mortally wounded; 1 officer and 91 men, died of disease and other causes, a total deaths of 168.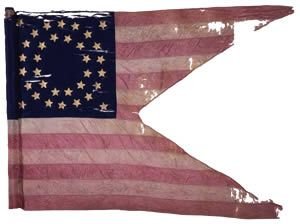 136th Regiment NY Volunteer Infantry | Guidons | Civil War
The NYS Battle Flag Collection includes two silk swallowtail guidons carried by the 136th Regiment New York Volunteer Infantry. Each guidon conforms…