127th Infantry Regiment
Nickname: National Volunteers; Monitors
Mustered in: September 8, 1862
Mustered out: June 30, 1865
The following is taken from New York in the War of the Rebellion, 3rd ed. Frederick Phisterer. Albany: J. B. Lyon Company, 1912.
Colonel William Gurney received authority, July 10, 1862, to raise this regiment in New York city; it was organized on Staten Island, and there mustered in the service of the United States for three years September 8, 1862. June 30, 1865, the men not to be mustered out with the regiment were transferred to the 54th Infantry.
The companies were recruited principally: A, B, C and F in New York city; D in New York city, Brooklyn, Huntington, Southampton and Greenport; E in Huntington, Amity-ville and Babylon; G in New York city, Riverhead, Sag Harbor and Greenport; H in Greenport, Southold, Mattituck and Orient; I in Brooklyn and Huntington; and K in Greenport, Sag Harbor, Riverhead, Southampton and Bridgehampton.
The regiment left the State September 10, 1862; it served in the defenses of Washington and in the 3d Brigade, Abercrombie's Division, 22d Corps, from September, 1862; in 3d, Hughston's, Brigade, Gurney's Division, Department of Virginia, from April, 1863; in 1st Brigade, 2d Division, 4th Corps, from May, 1863; in the 1st Brigade, 1st Division, 11th Corps, from July 14, 1863; in the 1st Brigade, Gordon's Division, 10th Corps, from August, 1863; on Folly and Morris Islands, S. C., and in the District of Beaufort, from October, 1864; in the 1st, Potter's Brigade, Coast Division, Department of the South, from November, 1864; at Charleston, S. C., from March, 1865; and, commanded by Colonel Gurney, it was honorably discharged and mustered out June. 30, 1865, at Charleston, S. C.
During its service the regiment lost by death, killed in action, 23 enlisted men; of wounds received in action, 14 enlisted men; of disease and other causes, 1 officer, 94 enlisted men; total, I officer, 131 enlisted men; aggregate, 132; of whom 7 enlisted men died in the hands of the enemy.
The following is taken from The Union army: a history of military affairs in the loyal states, 1861-65 -- records of the regiments in the Union army -- cyclopedia of battles -- memoirs of commanders and soldiers. Madison, WI: Federal Pub. Co., 1908. volume II.
One Hundred and Twenty-seventh Infantry.—Col., William Gurney; Lieut.-Cols., Stewart L. Woodford, Edward H. Little; Majs., Edward H. Little, Frank K. Smith. This regiment, known as the National Volunteers or Monitors, was principally recruited on Long Island and in New York city, where it was mustered into the U. S. service for three years, Sept. 8, 1862, and left two days later for Washington. It served during the siege of Suffolk in the spring of 1863 in Hughston's (3d) brigade, Gurney's division, and in June was engaged in minor affairs at Diascund bridge and at Nine-mile Ordinary, Va. In August it was ordered to South Carolina, where it participated in the various operations about Charleston harbor in 1863, including the siege of Fort Wagner and the bombardment of Fort Sumter, attached to the 1st brigade, Gordon's division, 10th corps. It was present during the actions at Bull's island in March, 1864, and at Fort Johnson in July, sustaining its first severe loss at the battle of Honey Hill, S. C., in November, its casualties in this action amounting to 7 killed, 49 wounded and 15 missing. It was then serving in Potter's (1st) brigade, Hatch's division, and was again warmly engaged at Deveaux neck in December, losing 14 killed, 67 wounded, and 3 missing. Shortly after the evacuation of Charleston, the regiment was detailed by order of Gen. Sherman for permanent city garrison, on account of its good reputation for discipline, Col. Gurney being appointed post commander. It was there mustered out on June 30, 1865. The regiment left for the war about 1,000 strong, and returned home with 25 officers and 530 men. It lost by death during service 35 men killed in action; I officer and 94 men died of disease and other causes, a total of 130.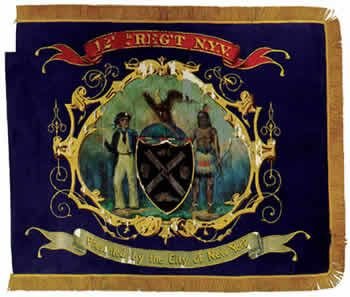 127th Regiment NY Volunteer Infantry | Regimental Color | Civil War
This blue silk regimental color carried by the 127th New York Volunteers features a painted Arms of the City of New York on both the obverse and…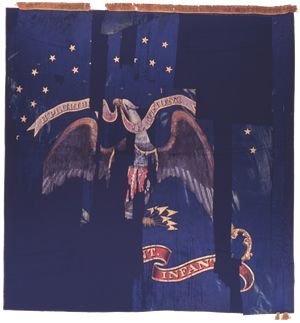 127th Regiment NY Volunteer Infantry | Regimental Color | Civil War
This blue silk regimental features a painted Arms of the United States complete with regimental identification painted on the lower ribbon. Nearly 50%…