82nd New York Infantry Regiment's Monument at Gettysburg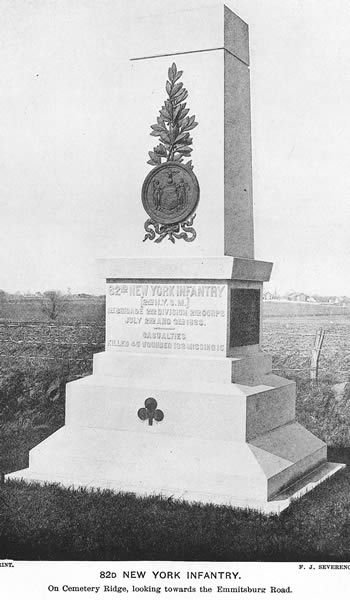 Taken from Final Report on the Battlefield of Gettysburg (New York at Gettysburg) by the New York Monuments Commission for the Battlefields of Gettysburg and Chattanooga. Albany, NY: J.B. Lyon Company, 1902.
INSCRIPTIONS
Front - 82ND NEW YORK INFANTRY (2ND N. Y. S. M.) 1ST BRIGADE 2ND DIVISION 2ND CORPS. JULY 2ND AND 3RD, 1863. CASUALTIES. KILLED 45 WOUNDED 132 MISSING 15.
Reverse - TOTAL ENLISTMENTS 1,452. KILLED 129, WOUNDED 436, MISSING 212; TOTAL, 777. THIS REGIMENT WAS MUSTERED IN SERVICE MAY 21, 1861; SERVED WITH THE ARMY OF THE POTOMAC IN ALL ITS CAMPAIGNS FROM BULL RUN, JULY 21, 1861; PARTICIPATING IN TWENTY-NINE GENERAL ENGAGEMENTS UNTIL MUSTERED OUT JUNE 25, 1864. PRESENT FOR DUTY JULY 1, A. M., 24 OFFICERS AND 331 ENLISTED MEN.
Right Side - ON THE EVENING OF JULY 2, MOVED TO THE EMMITSBURG ROAD TO PROTECT FLANK OF THIRD CORPS. FOUGHT THERE UNTIL OUT-FLANKED. RETURNING TO THIS LINE THE REGIMENT REFORMED UNDER A GALLING FIRE; THEN ADVANCED, DRIVING THE ENEMY BEFORE THEM; REGAINED THEIR FORMER POSITION, CAPTURING THE COLORS OF THE 48TH GEORGIA. AMONG THE KILLED WAS COLONEL HUSTON COMMANDING THE REGIMENT.
Left Side - AT THE TIME OF THE ENEMY'S ASSAULT ON THE AFTERNOON OF THE 3D, THE REGIMENT MOVED TO THE RIGHT TOWARD THE COPSE OF TREES AND ASSISTED IN REPULSING THE ENEMY, CAPTURING THE FLAGS OF THE FIRST AND SEVENTH VIRGINIA REGIMENTS.