81st Infantry Regiment
Nickname: Second Oswego Regiment; Mohawk Rangers
Mustered in: December 20, 1861 to February 20, 1862
Mustered Out: August 31, 1865
The following is taken from New York in the War of the Rebellion, 3rd ed. Frederick Phisterer. Albany: J. B. Lyon Company, 1912.
This regiment was organized at Albany February 18, 1862, by the consolidation of the Mohawk Rangers, or Guards of Liberty and Union, Col. O. B. Pierce, of which the Remington Guards formed part, with the Oswego Regiment, Col. Edwin Rose. August 25, 1861, authority was granted for the organization of the Oswego Regiment; October 11, 1861, it consisted of ten companies of minimum strength; in December Company I was consolidated with the other companies, and, a number of men discharged for various reasons; in January, 1862, it was ordered to Albany, and February 6th, the men of Company C were transferred to Companies D, G and K, and those of Company E to Companies A, F and H, leaving but seven companies. The Mohawk Rangers were organized at Rome; ordered to Albany in February, 1862, and on the 17th, consolidated with the Oswego Regiment, forming its three vacant companies, C, E and I. The new organization received the numerical designation given to the Oswego Regiment December 10, 1861, and Edwin Rose was appointed its Colonel. At the expiration of its term of service, the men entitled thereto were discharged, and the regiment continued in service.
The men were recruited principally in the counties of Oswego and Oneida, and mustered in the service of the United States for three years, between December 20, 1861, and February 20, 1862.
The regiment left the State March 5, 1862; served at Kalorama Heights, D. C., from March 7, 1862; in Palmer's, 3d, Brigade, Casey's, 1st, Division, 4th Corps, Army of Potomac, from March 13, 1862; in 1st Brigade, 2d Division, same corps, from June, 1862; at Yorktown, Va., from August, 1862; in 1st, Naglee's, Brigade, Peck's Division, 4th Corps, in North Carolina, from December, 1862; in 1st, Heckman's, Brigade, 2d, Naglee's, Division, 18th Corps, in South Carolina, from January 11, 1863; in the District of Beaufort, N. C., 18th Corps, from May, 1863; at Newport News, Va., from October, 1863; at Portsmouth, Va., from December, 1863; in the District of Currituck, Va., from February, 1864; in the 1st Brigade, 1st Division, 18th Corps, Army of the James, from April 18, 1864; in New York harbor in November, 1864; in the 1st Brigade, 3d Division, 24th Corps, from December, 1864; and it was honorably discharged and mustered out, under Lieut-Col. Lucius V. S. Mattison, August 31, 1865, at Fort Monroe, Va.
During its, service the regiment lost by death, killed in action, 8 officers, 88 enlisted men; of wounds received in action, 4 officers, 44 enlisted men; of disease and other causes, 2 officers, 97 enlisted men; total, 14 officers, 229 enlisted men; aggregate, 243; of whom 3 enlisted men died in the hands of the enemy.
The following is taken from The Union army: a history of military affairs in the loyal states, 1861-65 -- records of the regiments in the Union army -- cyclopedia of battles -- memoirs of commanders and soldiers. Madison, WI: Federal Pub. Co., 1908. volume II.
Eighty-first Infantry.—Cols., Edwin Rose, Jacob J. DeForest, John B. Raulston, David B. White; Lieut.-Cols., Jacob J. DeForest, William C. Raulston, John B. Raulston, David B. White, Lucius V. S. Mattison; Majs., Byron B. Morris, John McAmbly, William C. Raulston, David B. White, Edward A. Stimson, Lucius V. S. Mattison. The 81st, the 2nd Oswego regiment, was raised mainly in Oneida and Oswego counties and was mustered into the U. S. service at Oswego and Albany from Dec., 1861, to Feb. 20, 1862,. for three years. It left the state for Washington on March 5, 1862, was quartered for a short time at Kalorama heights and assigned to Palmer's brigade, Casey's division, 4th corps, with which it embarked for the Peninsula with the general advance of McClellan's army. It was present during the siege of Yorktown; in the battles of Williamsburg and Savage Station; was closely engaged at Fair Oaks, with the loss of 137 killed, wounded and missing, among whom Maj. McAmbly was killed and Lieut.-Col. DeForest wounded. During the Seven Days' battles the regiment was employed in guard-ing trains, and after the evacuation of the Peninsula was stationed at Yorktown until December, from which point it undertook a number of expeditions into the surrounding country. Assigned to the 1st brigade, Peck's division, 4th corps, the 81st embarked for North Carolina in Dec., 1862, and was stationed at Beaufort, and More-head, N. C., in the 1st brigade, 2nd division, 18th corps. In Oct., 1863, the regiment returned to Newport News and performed outpost duty along the Dismal Swamp canal. In December a sufficient number reenlisted to secure the continuance of the 81st as a veteran regiment, and upon their return from veteran furlough the regiment was assigned to the 1st brigade, 1st division, 18th corps, with which it fought at Swift creek, Drewry's bluff and Cold Harbor. In the two assaults on Cold Harbor the regiment took a prominent part and suffered the heaviest loss in its history, 212 killed or wounded and 3 missing, half of the number engaged. It continued in service before Petersburg; was sent to New York harbor in November; was attached to the 24th corps in December; was active in the assault on Fort Harrison, and was mustered out of the service at Fortress Monroe Aug. 31, 1865. It earned a well-deserved reputation for gallantry and courage for which it paid the penalty of loss during service of 107 by death from wounds and 99 from other causes.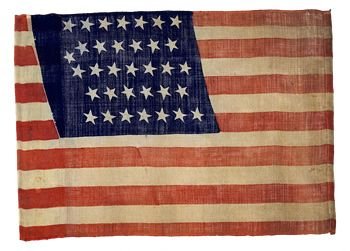 81st Regiment NY Volunteer Infantry | Camp Colors | Civil War
Printed wool camp colors in the US national pattern as prescribed in General Order No. 4, Headquarters of the U.S. Army, dated 18 January 1862. These…