65th New York Infantry Regiment's Monument at Gettysburg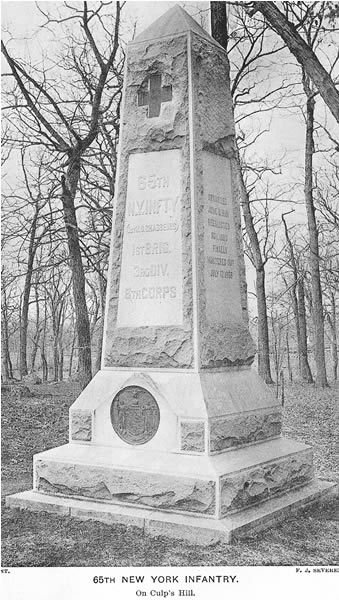 Taken from Final Report on the Battlefield of Gettysburg (New York at Gettysburg) by the New York Monuments Commission for the Battlefields of Gettysburg and Chattanooga. Albany, NY: J.B. Lyon Company, 1902.
INSCRIPTIONS
Front - 65TH N. Y. INFTY (1ST U. S. CHASSEURS) 1ST BRIG. 3RD DIV. 6TH CORPS.
Reverse - ARRIVED ON THE FIELD AT 2 P. M. JULY 2. AT DAYLIGHT OF THE 3D MOVED FROM BASE OF LITTLE ROUND TOP TO CULP'S HILL. HELD THIS POSITION TILL 3 P. M. THEN MOVED TO LEFT CENTRE.
Left Side - PARTICIPATED WITH 4TH & 6TH CORPS IN EVERY BATTLE OF THE ARMY OF THE POTOMAC.
Right Side - ORGANIZED JUNE 11, l86l. RE-ENLISTED NOV. 1863. FINALLY MUSTERED OUT JULY 17, 1865.