33rd Independent Battery Light Artillery
Mustered in: September 4,1862. 
Mustered out: June 25, 1865.
The following is taken from New York in the War of the Rebellion, 33rd ed. Frederick Phisterer. Albany: J. B. Lyon Company, 1912.
Captain Algar M. Wheeler received, July 9, 1863, authority to recruit this battery. It was organized at Elmira, and there mustered in the service of the United States for three years September 4, 1863. The men were recruited principally at Buffalo, Rochester, Lock-port and Elmira, and the battery left the State September 5, 1863. It served at and near Washington, D. C, 22d Corps, from September, 1863; in the 3d Division, 10th Corps, Army of the James, from April, 1864; in 1st Brigade, 3d Division, 10th Corps, from June, 1864; in 3d Division, from July, 1864; in Artillery Brigade, 10th Corps, from August, 1864; and in the Separate Brigade, same army, at Fort Pocahontas, Va., from August, 1864; in the defenses of Bermuda Hundred, with Ferrero's Division, from January, 1865. The battery, still commanded by Captain Wheeler, was honorably discharged and mustered out June 25, 1863, at Petersburg, Va., having, during its service, lost by death of disease and other causes, I officer, 12 enlisted men; aggregate, 13.
The following is taken from The Union army: a history of military affairs in the loyal states, 1861-65 -- records of the regiments in the Union army -- cyclopedia of battles -- memoirs of commanders and soldiers, Volume II: New York, Maryland, West Virginia and Ohio. Madison, WI: Federal Pub. Co., 1908.
Thirty-third Independent Battery.—Capt., Algar M. Wheeler. This battery was recruited at Buffalo, Rochester, Lockport and Elmira, and was mustered into the U. S. service at Elmira, Sept. 4, 1863, for three years. It left the state the next day and was stationed at Washington until the following April, when it was assigned to the 1st brigade, 3d division, loth corps, with which it took part in the operations against Petersburg and Richmond, being engaged at Drewry's bluff and at Bermuda Hundred in May. It participated with its corps in the assault on Petersburg in June and remained in the trenches there until the close of the war. In Aug., 1864, it was stationed at Fort Pocahontas, and from Jan., 1865, was attached to Ferrero's division in the defenses of Bermuda Hundred, but took part in the final assault on Petersburg, April 2, 1865. It was mustered out at Petersburg, June 25, 1865. Its loss during service was 1 officer and 12 enlisted men who died of disease, etc.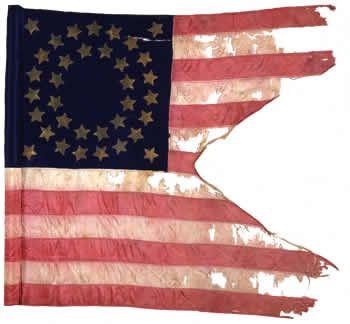 33rd Independent Battery, NY Volunteers | Guidon | Civil War
The NYS Battle Flag Collection includes one flag carried by the 33rd Independent Battery, a silk, swallowtail guidon in the "stars and stripes"…