21st Independent Battery Light Artillery
Mustered in: December 12, 1862. 
Mustered out: September 8, 1865.
The following is taken from New York in the War of the Rebellion, 21st ed. Frederick Phisterer. Albany: J. B. Lyon Company, 1912.
This battery was organized at Oswego; recruited principally at Hastings, Oswego and Phoenix, and mustered in the service of the United States for three years at New York city, December 12, 1862. December 20, 1864, a number of men, in excess of the maximum strength allowed, were transferred to the 26th Battery. It left the State, under Capt. James Barnes, December 12, 1862, and served in the defenses of New Orleans, La., from January, 1863; at Port Hudson, La., from July, 1863; in the Reserve Artillery, 19th Corps, from July, 1864; at Morganza, La., from January, 1865; in Artillery Brigade, 13th Corps, from February, 1865; in 2d Brigade, 13th Corps, from May, 1865.
The battery, commanded by Captain Barnes, was honorably discharged and mustered out, September 8, 1865, at Syracuse, having during its service lost by death, of wounds received in action, 2 enlisted men; of disease and other causes, 1 officer, 30 enlisted men; total, 1 officer, 32 enlisted men; aggregate, 33; of whom 1 enlisted man died in the hands of the enemy.
The following is taken from The Union army: a history of military affairs in the loyal states, 1861-65 -- records of the regiments in the Union army -- cyclopedia of battles -- memoirs of commanders and soldiers, Volume II: New York, Maryland, West Virginia and Ohio. Madison, WI: Federal Pub. Co., 1908.
Twenty-first Independent Battery.—Capt., James Barnes. This battery was raised and organized at Oswego and was mustered into the U. S. service for three years, Dec. 12, 1862, at New York city. It left the state the same day for New Orleans and was engaged in May at the Armite river and Civiques ferry, and then took part in the siege of Port Hudson, participating in the assaults of May 27 and June 14. It lost 7 men captured at Plains store; was active at Morganza, with the 19th corps in Jul}' and at Morgan's ferry, and Simsport in October. Attached to the reserve artillery, 13th corps, it was engaged at Spanish Fort and Mobile, Ala., in the spring of 1865, losing 2 killed and i wounded. It was mustered out at Syracuse, N. Y., Sept. 8, 1865. Its loss during service was 2 killed, and 1 officer and 30 men died of disease and other causes, a total of 33.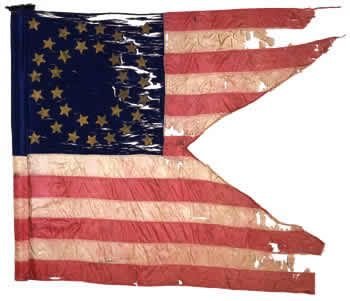 21st Independent Battery, NY Volunteers | Guidon | Civil War
The NYS Battle Flag Collection includes one flag carried by the 21st Independent Battery, a silk, swallowtail guidon in the "stars and stripes"…