4th New York Independent Battery's Monument at Gettysburg
Taken from Final Report on the Battlefield of Gettysburg (New York at Gettysburg) by the New York Monuments Commission for the Battlefields of Gettysburg and Chattanooga. Albany, NY: J.B. Lyon Company, 1902.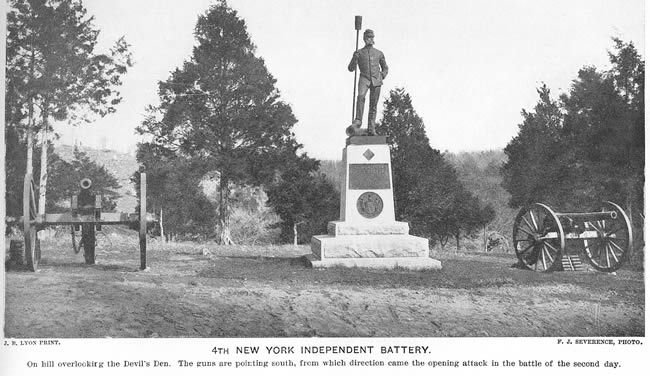 4th New York Independent Battery.
On hill overlooking the Devil's Den. The guns are pointing south, from which direction came the opening attack in the battle of the second day.
INSCRIPTIONS
Front - 4TH NEW YORK INDPT BATTERY (SMITH'S) ARTILLERY BRIGADE 3D CORPS. JULY 2, 1863 — 2 TO 5 P. M.
Reverse - CASUALTIES 2 KILLED, 10 WOUNDED 1 CAPTURED AT THE TIME OF THE ASSAULT BY HOOD'S DIVISION OF THE CONFEDERATE ARMY THIS BATTERY SUPPORTED BY THE FOURTH MAINE INFANTRY FORMED THE EXTREME LEFT OF THE THIRD CORPS LINE. THREE GUNS OF THE TWO SECTIONS IN ACTION ON THIS CREST WERE CAPTURED BY THE CONFEDERATES. THE THIRD SECTION WAS IN POSITION TO THE RIGHT AND REAR AND CONTINUED THE ACTION UNTIL NEARLY 6 P. M.