6th Cavalry Regiment Monument At Gettysburg
Taken from Final Report on the Battlefield of Gettysburg (New York at Gettysburg) by the New York Monuments Commission for the Battlefields of Gettysburg and Chattanooga. Albany, NY: J.B. Lyon Company, 1902. page 1123.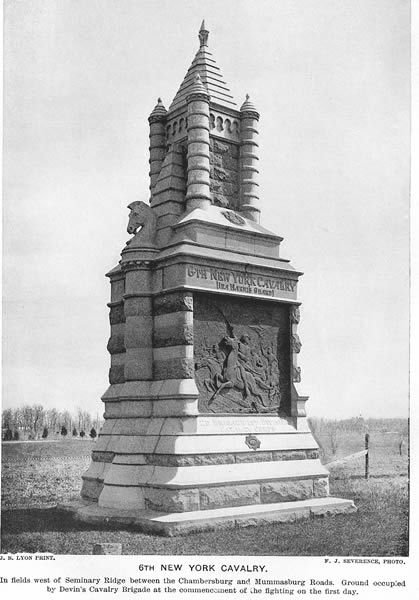 In fields west of Seminary Ridge between the Chambersburg and Mummasburg Roads. Ground occupied by Devin's Cavalry Brigade at the commencement of the fighting on the first day.
INSCRIPTIONS
Front - 6TH NEW YORK CAVALRY (IRA HARRIS GUARD) 2D BRIGADE, 1ST DIVISION CAVALRY CORPS.
Reverse - 6TH NEW YORK CAVALRY REGIMENT AT GETTYSBURG. ARRIVED JUNE 30, 1863. JULY 1, SKIRMISHED DISMOUNTED, ON THIS LINE UNTIL ARRIVAL OF 1ST CORPS AND THE REST OF THE DAY ON RIGHT OF THE YORK ROAD, THEN RETIRED TO CEMETERY HLLL, ONE SQUADRON BEING AMONG THE LAST UNION TROOPS IN GETTYSBURG ON THAT DAY. BIVOUACKED IN PEACH ORCHARD THAT NIGHT, AND ENGAGED ENEMY'S SKIRMISHERS ON THE MORNING OF JULY 2, UNTIL RELIEVED BY TROOPS OF THE 3D CORPS. THEN MOVED TO TANEYTOWN AND ON THE THIRD TO WESTMINISTER, FROM WHICH PLACE MOVED WITH THE DIVISION (BUFORD'S) IN PURSUIT OF THE ENEMY. MET AND ENGAGED THEM JULY 8, AT BOONSEBORO', MD., HOLDING THAT POSITION. CASUALTIES; KILLED I, WOUNDED 5, MISSING 16; TOTAL, 22. REGIMENT ORGANIZED IN NEW YORK CITY. MUSTERED INTO SERVICE SEPTEMBER, 1861. RE-ENLISTED AS VETERAN VOLUNTEERS AT CULPEPER COURT HOUSE, VA., DEC. 16, 1863. MUSTERED OUT OF SERVICE JUNE 17, 1865. TOTAL NUMBER ENLISTED 1969. TOTAL CASUALTIES, OFFICERS 34, MEN 382. PRINCIPAL ENGAGEMENTS. BARNETT'S FORD, SEVEN PINES, FAIR OAKS, MALVERN HILL, FREDERICK, SOUTH MOUNTAIN, ANTIETAM, FREDERICKSBURG, CHANCELLORSVILLE, BRANDY STATION, ALDIE- UPPERVILLE, GETTYSBURG, BOONSBORO', WILLIAMSPORT, CULPEPER COURT HOUSE, MINE RUN, MORTON'S FORD, WILDERNESS TODD'S TAVERN, SPOTSYLVANIA, YELLOW TAVERN, SHERIDAN'S RAID AROUND RICHMOND, HAWES' SHOP, COLD HARBOR, TREVILIAN STATION, WHITE HOUSE, DEEP BOTTOM, SHEPHERDSTOWN, FRONT ROYAL, WINCHESTER, FISHER'S HILL, CEDAR CREEK, DINWIDDIE C. H., APPOMATTOX STATION, AND 45 OTHER BATTLES AND SKIRMISHES. THOMAS C. DEVIN. BREVET MAJOR GENERAL FIRST COLONEL 6TH NEW YORK CAVALRY