10th New York Infantry Regiment's Monument at Gettysburg
Taken from Final Report on the Battlefield of Gettysburg (New York at Gettysburg) by the New York Monuments Commission for the Battlefields of Gettysburg and Chattanooga. Albany, NY: J.B. Lyon Company, 1902.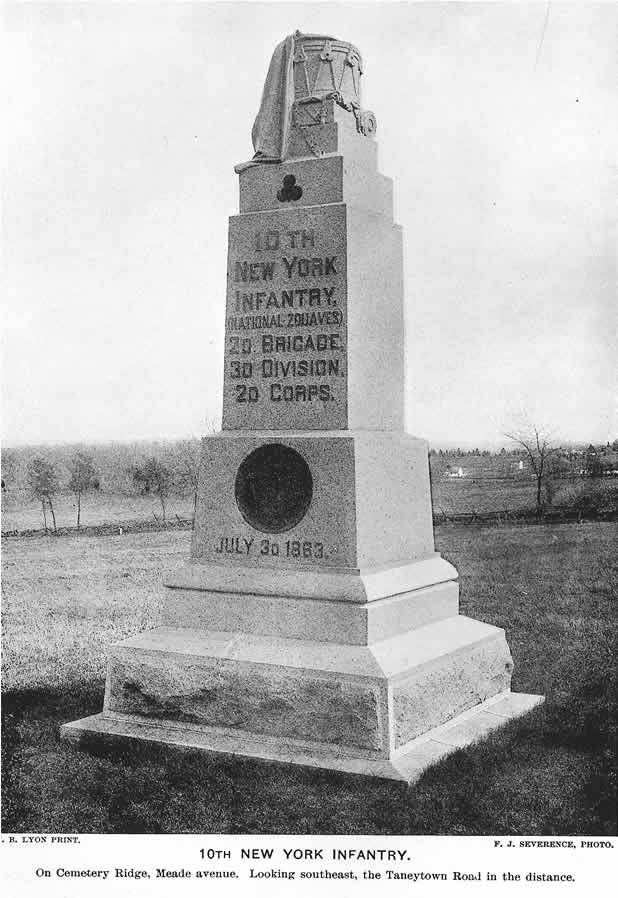 INSCRIPTIONS
Front - 10TH NEW YORK INFANTRY, (NATIONAL ZOUAVES) 2D BRIGADE, 3D DIVISION, 2D CORPS. JULY 3D 1863.
Reverse - MUSTERED IN APRIL 27, 1861 AT N. Y. CITY FOR 2 YEARS MUSTERED OUT MAY 7, 1863 RE-ORGANIZED AS 10TH BATTALION NEW YORK INFANTRY APRIL 26, 1863 MUSTERED OUT JUNE 30, 1865 HELD THIS POSITION WITH 8 OFFICERS AND 90 ENLISTED MEN AS PROVOST GUARD HAYS'S DIVISION DURING PICKETT'S CHARGE JULY 3, 1863 CASUALTIES KILLED 2 WOUNDED 4 PARTICIPATED IN ALL THE CAMPAIGNS OF THE ARMY OF THE POTOMAC.