U.S. Signal Corps Battle Flags | David A. Taylor | Civil War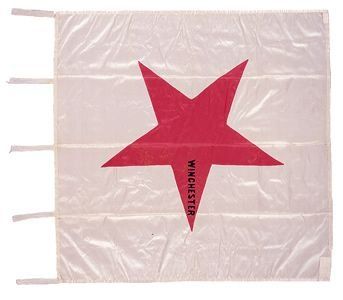 Flag dimensions: 47 3/4" hoist X 48 1/2" fly.
(1995.3342)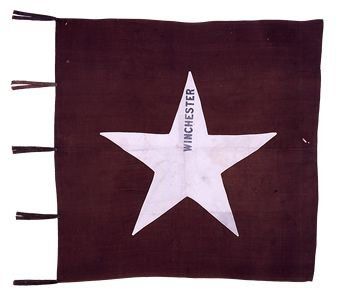 Flag dimensions: 46" hoist X 46 3/4" fly.
(1995.3342)
The New York State Battle Flag Collection includes four U.S. Signal Corps Battle Flags attributed to first lieutenant, later captain, David A. Taylor for conspicuous service at the Battle of Winchester, Virginia, March 23, 1862. (This webpage shows two of the four flags.) During the battle, Taylor and his Flagman, Oliver Temple, successfully operated one of six signal stations. Later, Taylor and Temple accompanied the Union advance and, while under heavy enemy fire, Taylor had a button shot off his overcoat and Temple suffered an arm wound. In accordance with General Orders previously issued by Chief Signal Officer Major Albert J. Myer on March 19, 1862, Taylor was eligible to place upon his service flags a star and to carry a flag, with a star, at ceremonial occasions. Each flag's star should include the name of the battle in which the star was earned in the star's upper point. The white flag seen on this page is silk and is believed to be the ceremonial flag, whereas the other flag, made of cotton, is believed to be one of Taylor's service flags. Interestingly, the star on the white silk flag is pointed down while the star on the other flag is pointed up. In addition, "WINCHESTER" is appliquéd on the white silk flag whereas the word "WINCHESTER" is printed on the other flag. The measurements exclude the ties.