U.S. Signal Corps Battle Flag | Edward Halstead | Civil War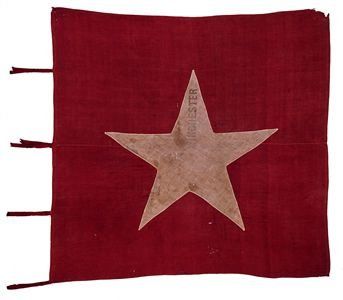 Flag dimensions: 49" hoist X 50" fly.
(2007.0018)
This red cotton flag with a reverse appliquéd white star marked "WINCHESTER" is believed to have been presented to Second Lieutenant Edward Halstead for conspicuous service at the Battle of Winchester, Virginia, March 23, 1862. Halstead originally served a 30-day muster as a private beginning April 26, 1861, in the famed 7th Regiment, NYSM. As a Second Lieutenant with the Signal Corps at the Battle of Winchester, Halstead served with distinction to earn this battle flag in accordance with General Orders previously issued by Newburgh, New York native and Chief Signal Officer Major Albert J. Myer on March 19, 1862.