Peck Family Flag | Civil War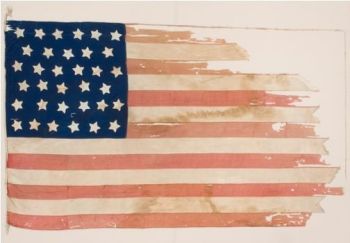 Flag dimensions: 46 1/2" hoist X 72 1/4" fly.
(1995.3137)
In June 1862, 16-year-old Albert Peck from Syracuse, New York, made this United States flag. With some help from his mother, Salmone Kinne Peck, young Peck hand-stitched the flag to include 34 stars. Peck and his family flew the flag from a tall flagpole on the family farm known as Peck Hill, located about five miles northeast of downtown Syracuse, New York. During a routine milk delivery to the Milk Association in Syracuse in mid-April 1865, Peck's father learned the dreadful news regarding President Abraham Lincoln's assassination. The elder Peck, upon his return home to Peck Hill, revealed the news to his loved ones and lowered the family's home-made flag to half staff to honor the slain president and to help convey the news to the surrounding neighborhood. The flag remained with the Peck family until September 1927, when DeWitt Clinton Peck, Albert Peck's son, presented the cherished banner to New York State. Albert Peck used cotton fabrics to create the flag. Peck pieced together the red, white, and blue cotton using one-quarter-inch seams, all hand-sewn with a running stitch. He turned the raw edges and whip-stitched them to prevent unraveling. Peck also appliquéd the 34 stars in the canton with a running stitch, catching the aligned stars on the front and back with one thread. The edges of the stars were left raw.