Loyal Ladies of Tennessee Flag | Civil War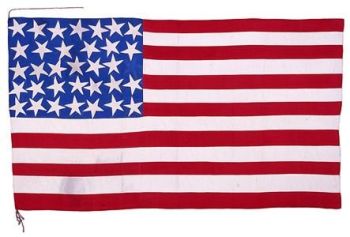 Flag dimensions: 33" hoist X 57 1/4" fly.
(1995.0311)
In January 1864, Major General David Stanley's division arrived in Cleveland, Tennessee, approximately 20 miles east of Chattanooga, and issued rations to the local civilians. Soon thereafter, a grateful young woman presented New Yorker Captain Angelo Crapo with the small United States flag seen here. Reportedly made by loyal ladies from east Tennessee and concealed at times in a teapot, the small flag remained hidden from Confederate forces for over two years. In 1866 Crapo presented the flag to state authorities on behalf of the loyal ladies of Tennessee. The flag that these Tennessee ladies made is an all-cotton, hand-sewn, United States flag. It has 33 stars, from a 34-star pattern, on the obverse and all 34 stars on the reverse. All the white stars are adhered with glue to the flag's blue canton. Typically, flags from the Civil War period include painted, embroidered, appliquéd, or printed stars. The flag also uniquely includes a cord along each outer edge. The cord extends out from the flag at the top and bottom hoist for attachment to a staff or flagpole.