Lincoln Bier Flag | Civil War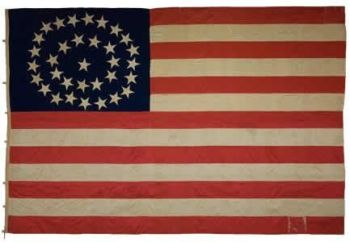 Flag dimensions: 9' 6" hoist X 14' 6" fly.
(1997.0038)
Emily Weed Barnes—daughter of Thurlow Weed, the influential Albany, New York, newspaper publisher, political boss, and confidant of Abraham Lincoln—draped this large silk United States national flag around the Lincoln bier, while the martyred President lay in state on April 26, 1865, in the old New York State Capitol's Assembly Chamber. William H. Seward, Lincoln's Secretary of State and a Weed family friend, gave the 33-star national flag to Weed in 1861. The Barnes family later displayed the flag for two other murdered presidents–in 1881 to mourn President James Garfield and again in 1901 to honor the late President William McKinley. The flag remained with the Barnes family until 1930 when William "Billy" Barnes, Jr., son of William and Emily Barnes and the former Republican leader in Albany, donated the flag to New York State. Then–Governor and future President Franklin D. Roosevelt accepted the flag from Barnes. Lincoln's 9.5-foot by 14.5-foot silk bier flag was pieced together using 1/8-inch flat-felled seams, all hand-sewn with a running stitch. The flag's maker reverse appliquéd the white stars to the blue canton. This technique involves cutting away the blue silk before hemming the edges of the star and the blue silk together. At some point in the flag's history, several stitch repairs were made to mend splits in the silk. In 2014, textile conservators from the New York State Office of Parks, Recreation and Historic Preservation carefully examined the flag and all its previous repairs. During the flag's conservation treatment, the conservators removed only those repairs that were causing damage to the flag. The conservators also gently vacuumed the flag with low suction to remove harmful particulate soils and used a controlled amount of humidity to reduce rippling and aid in the flag's realignment.