Fort Albany Flag | Civil War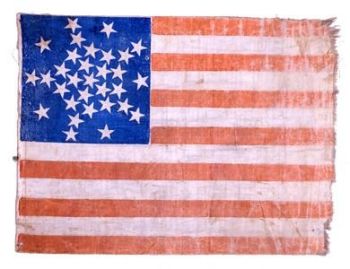 Flag dimensions: 11" hoist X 15" fly.
(1995.1375)
Reportedly this flag, obtained from a local sutler, was the first flag raised over Fort Albany, Arlington, Virginia, on July 4, 1861. The 25th New York State Militia constructed Fort Albany beginning in May 1861. The fort once stood near the modern-day Pentagon. The cotton flag features 31 painted stars in a star burst type pattern.