2nd Brigade, Infantry Division, Army of the James | Designating Flag | Civil War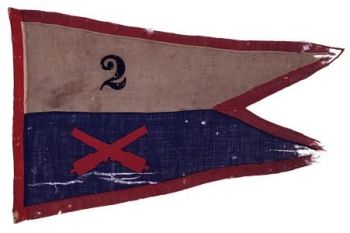 Flag dimensions: 39 1/4" hoist X 61" fly fly.
(1995.0308)
This wool swallowtail designating flag includes appliquéd cross cannons and the numeral "2". Beginning in December 1864, the brigade served as heavy artillery and infantry in the defenses at Bermuda Hundred. The 6th and 10th Artillery, New York Volunteers formed the brigade. Lieutenant Colonel George DePeyster Arden from the 10th Artillery briefly commanded the brigade and his brother, Henry Arden, donated the flag in 1905.