91st Regiment NY Volunteer Infantry | Flank Marker | Civil War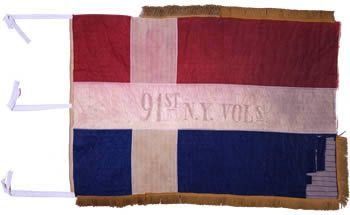 Flag dimensions: 26 1/2" hoist X 37" fly.
(2004.004)
Brigadier General Jonathan Tarbell, former Colonel of the 91st Regiment NY Volunteer Infantry deposited this unique flank marker with state authorities on July 27, 1865. The silk flag is constructed in three main sections: top, middle and bottom. The top and bottom each have three fabric pieces in alternating colors, sewn together along the vertical. The white center section is made of two pieces, one on top of the other, each embroidered with the unit designation so it reads left to right on both sides of the flag. A restorer added the netting and zig-zag stitching in 1971. White, polyester tiebacks, not original to the flag, are attached to the hoist edge.