91st Regiment NY Volunteer Infantry | National Color | Civil War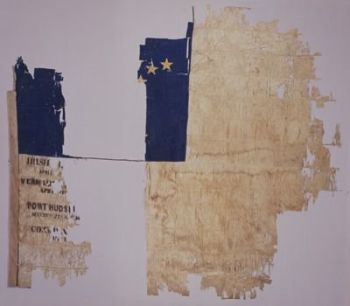 Flag dimensions: 62 3/4" hoist X 73" fly.
(2012.0054)
On December 21, 1861, as the 91st New York Volunteers prepared to leave Albany, New York, for the seat of war, the regiment assembled outside Alderman John W. Harcourt's residence on Lydius Street where Mrs. Harcourt presented the home town regiment with this national color. During the first assault at Port Hudson, Louisiana, May 27, 1863, enemy fire reportedly tore the flag and severed the top of its staff. Corporal Patrick Garrity retrieved the fragment and gave the severed top to the colonel who delivered it to Mrs. Harcourt. During the second assault on Port Hudson, June 14, 1863, color bearer Private Samuel Townsend, a former Confederate soldier, received several gunshot wounds, including one reportedly from his brother, a soldier with an Alabama regiment. Townsend succumbed to his wounds and died on August 1, 1863. In July 1864, when the regiment returned home on furlough, the veterans presented the damaged flag and its staff to Mrs. Harcourt who turned the flag over to state authorities soon thereafter. The battle-damaged flag also suffered over the last century and a half. Its red silk stripes have significantly faded from overexposure to light, and the silk and the painted stars and battle honors are splitting and broken from furled storage in a dry environment.