69th Regiment NY Volunteer Infantry | Regimental Color | Civil War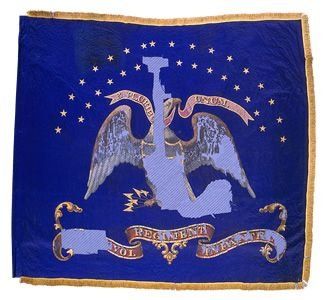 Flag dimensions: 76" hoist X 80" fly.
(2010.0013)
This blue silk Regimental Color attributed to the 69th Regiment New York Volunteer Infantry features the Arms of the United States painted in the center with 32 gold-colored, painted stars from an original 34-star pattern. Approximately 10% of the flag is lost, mostly in the painted sections.