69th Regiment NY Volunteer Infantry | National Color | Civil War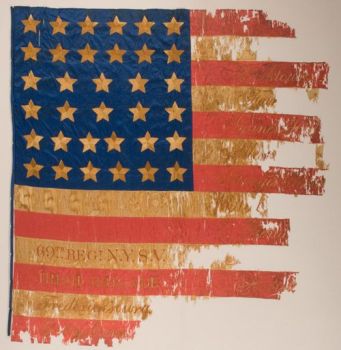 Flag dimensions: 74" hoist X 70.5" fly.
(2014.0102)
Shortly after the Battle of Antietam, Maryland, September 17, 1862, nearly three dozen native-born merchants from New York City commissioned Tiffany & Co. to provide a national color and a green Irish Color for all three New York based regiments in the Irish Brigade, the 69th, 63rd, and 88th New York Volunteers. On December 15, 1862, the New York regiments received the prized flags, including the color displayed here, during a presentation ceremony shortly after the Battle of Fredericksburg while under sporadic enemy fire and still attending to their wounded. None of the three New York regiments in the brigade carried their presentation flags into battle. Instead, the beautiful banners returned to New York and served as a vital recruitment tool in the city's Irish-born community. The silk 69th Regiment's National Color displayed here includes 34 embroidered stars, the unit's numeric designation and Irish Brigade affiliation, and a list of the unit's 1862 battles from Yorktown through Antietam. Embroidered battle honors for Fredericksburg and Gettysburg, located on the lower two stripes, were added later. Battle honors for Chancellorsville and Bristoe Station may also have been added to the flag but are no longer extant.