69th Regiment NY Volunteer Infantry | National Color | Civil War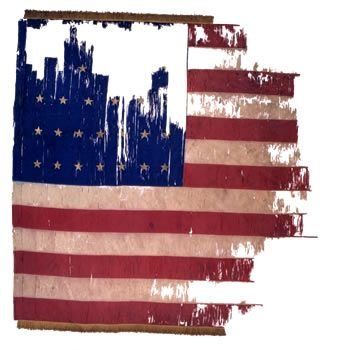 Flag dimensions: 74 1/4" hoist X 70 1/4" fly.
(2011.0057)
The 69th Regiment New York Volunteer Infantry received a national color, most likely the flag seen here, from the City of New York in early 1863. The flag adheres to Army Regulations and is a close match to the flags issued from the Quartermaster Depot in New York City. Made from individual pieces of red, white, and blue silk machine-sewn together, the flag includes a pole sleeve along the hoist edge and 2-inch long tassel fringe. Approximately 25-percent of the original flag is missing, mainly from the fly edge and canton where only 24 stars remain from the original 34-star pattern.