69th Regiment NY Volunteer Infantry | Flank Marker | Civil War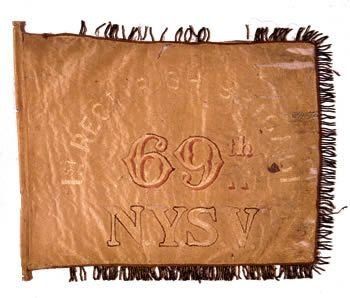 Flag dimensions: 18 1/2" hoist X 24 1/4" fly.
(1995.2087)
This cream colored silk flank marker carried by the 69th Regiment NY Volunteer Infantry features 1.25" long metal bullion fringe and an embroidered inscription, "1st.. REGT. IRISH BRIGADE/69th.. /N.Y.S.V." Captured by the Confederates at Fredericksburg on December 13, 1862, reclaimed by Union forces and eventually turned over to the War Department, this marker remained in Federal hands until 1905 when the authorities turned the flag over to New York State for inclusion within the Battle Flag Collection. Upon the reverse is the remnant of a glued paper label with barely legible, handwritten numerals. The numerals may correspond to the official, itemized register of flags maintained by the War Department.